This month's issue of Nonprofit Knowledge Matters takes a brief departure from our usual format to celebrate the official release of a first-of-its-kind set of free resources of, by, and for the nonprofit community: an in-depth national sector report and a related microsite providing easy access to state-by-state data and other information that will be updated frequently.
The report, Nonprofit Impact Matters: How America's Charitable Nonprofits Strengthen Communities and Improve Lives, compiles the latest data on the national scope and impact of charitable nonprofits. It then analyzes what the data mean in today's context, identifies several challenging trends facing nonprofits, and offers recommended action steps that those who care about nonprofits can take together to overcome those challenges. Along the way, it shares inspiring images and stories of the positive impact that nonprofits like yours are having on people in local communities across the country every day.
We are grateful to our sponsors - AIG Retirement Services, a leading defined contribution retirement plan provider for nonprofit organizations, and CLA - providing audit, tax, and consulting services for nonprofits, for their support that made the Nonprofit Impact Matters report possible.
---

advertisement
---
What's in the report?
Nonprofit Impact Matters tells the story of today's nonprofits from the nonprofit perspective for the nonprofit community – the 12.3 million nonprofit employees, 64 million nonprofit board members and volunteers, and the tens of millions of donors who support the work of nonprofits. It outlines the importance of our organizations and common challenges we all face. The report shows the ways that individuals, communities, for-profit businesses, and governments all rely on what nonprofits do to advance the common good.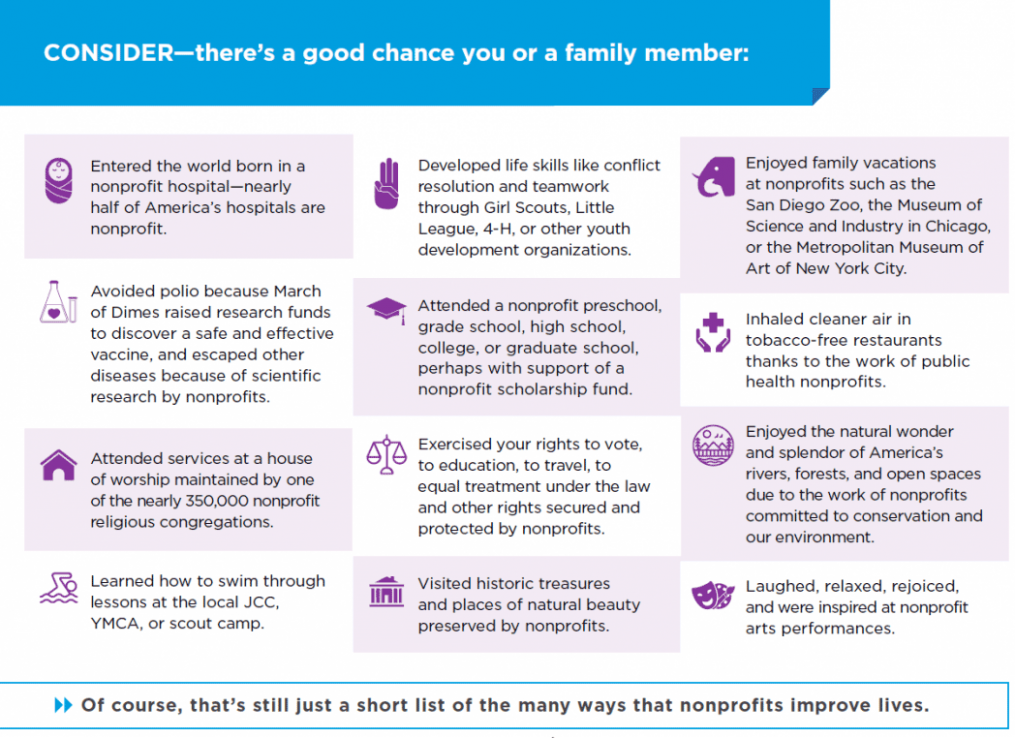 The accompanying microsite includes even more information, including an interactive state-by-state map that reveals state-specific data along with links to additional local resources, and downloadable/sharable images from the report that your nonprofit can use in its own reports and presentations to connect your work to the nationwide impact of all nonprofits.
For example, the chart below shows average revenue sources for charitable nonprofits. Few realize that the entire nonprofit sector earns more than 80% of its revenue via private fees for services and performing government grants and contracts (although each individual nonprofit has its own revenue mix—there is no standard one-size-fits-all).

Why now?
Nonprofits have never been more vital to our communities, yet in some ways nonprofits often seem invisible, somehow hidden in plain sight. For instance, collectively, nonprofits employ more than 10 percent of the private workforce in America, making us the third largest employer in the country (more than manufacturing, construction, transportation, or finance), yet how many people really see us and know that?
The solution for a more united and powerful nonprofit community is to make the invisible visible: enable more core nonprofit stakeholders to see the full size, diverse perspectives, shared interests and concerns, and potential power that nonprofits could collectively bring to bear for a more reliable and safe policy environment in which to advance their missions. Nonprofit Impact Matters focuses on what we all have in common so we can come together to communicate our collective impact and exercise the influence we could – and should – have.
---

advertisement
---
How your nonprofit can use this report
First, just take a minute to reflect on the vibrant, vital community that you are a part of.
Then, think about who you can share it with and how. Perhaps you want to have a team-building exercise at your next board meeting with each person sharing how nonprofits have influenced their lives. Or a conversation at your next staff meeting about how advocacy can help advance your nonprofit's mission. Or use some of the data and figures in communications with your donors to show how your nonprofit is being affected by one or more of the nationwide trends described in the report.
Next, stay informed. We'll be refreshing the dedicated microsite with new data and new reports, so feel free to bookmark it and check back often for updates.
Finally, our main goal with this report is for everyone to be able to see themselves as part of a bigger whole, a movement of people who are improving lives. Remember that you are not alone. Connect with your peers at other organizations. Networking via professional groups and subsector associations is helpful. One of the best ways to come together is to be a part of your state association of nonprofits, which brings together nonprofits of all sizes, locations, and missions.
Individually, your nonprofit has tremendous impact in its community. Together, we can change the world.
---
Nonprofit Knowledge Nuggets
Notable Articles
Nonprofits' Greatest Needs: Leaders of the Fidelity Charitable shared what they heard when they asked leaders to identify the greatest needs among nonprofits: "policy advocacy, especially at the state and local levels; governance; technology; financial management, planning, and literacy; equity and diversity; and professional development, particularly for young and midlevel staff." Although investments in such nonprofit infrastructure "may not always be flashy or glamorous, they're critical to ensuring that nonprofits have a strong foundation for their work." Major Gaps in Training and Coaching Hobble Nonprofit Success, The Chronicle of Philanthropy (Sept. 6, 2019).
Increased Focus on the Need to Pay for Nonprofits' Operating Costs: After studying the issue since 2016, the CEOs of the Ford, Hewlett, MacArthur, Open Society, and Packard Foundations announced that they will be doing more to cover the overhead expenses of their grantees. Five CEOs of Wealthy Foundations Pledge to Do More to Help Charities Pay Overhead, The Chronicle of Philanthropy (Sept. 4, 2019). Nonprofits need the ability to build a solid foundation to be successful.
New Reports
---

Forward to a friend | Subscribe to this newsletter



@NatlCouncilNPs